London Luton Airport expansion plan to be backed by council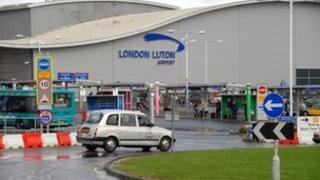 Plans to expand London Luton Airport are set to be backed by the council.
Airport operator London Luton Airport Operations Ltd want to increase passenger capacity from 12m to 18m a year.
The project includes building a new dual carriageway, multi-storey car park and taxiway.
Council officers have recommended approval of the planning application when it is considered next Thursday.
Plans for the airport, which is the UK's fifth biggest, also include extending the current car parks and making improvements to the terminal building and aircraft parking area, with new and improved stands.
The road from the Holiday Inn roundabout to the central terminal area would be made dual carriageway.
Luton Borough Council said its approval would come with conditions and the scheme would also be referred to the Secretary of State for Communities and Local Government.