Luton and Dunstable busway figures lower than projected in first month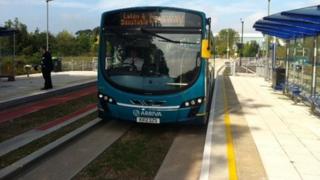 Passenger numbers for the first month of the Luton and Dunstable guided busway were just 43% of those predicted for the £91m scheme.
Luton Borough Council has revealed there were more than 120,000 passenger journeys in October.
But the 2008 business case projected usage of 9,000 trips a day, so 279,000 journeys for a 31-day month.
The council said the figures were "at least as good as, if not better" than could have been expected so early on.
Colin Chick, director of regeneration, said the original projections were "a bit higher" but circumstances had changed.
He said they were made when the government's full Bus Services Operators' Grant, which helped bus companies recover some fuel costs and keep fares down, was in operation.
"That has been cut phenomenally over the last couple of years and we have removed local tender bus services ourselves because of the pressure on local government," said Mr Chick.
"So, to [get these figures] now when the economy is a lot flatter than it was in 2007 when we were doing these calculations, I am really, really pleased with it."
'Gain momentum'
The eight-mile (13.4km) mainly guided route along a stretch of old railway line from Luton to Dunstable opened on 25 September.
Three bus companies - Arriva, Centrebus and Grant Palmer - have been operating four new routes, which provide services up to every eight minutes at peak times.
The passenger figures are based on numbers from two operators, and an estimate from the third.
Mr Chick said he expected figures to grow.
"I think it will gain momentum as people realise what a good quality service it is," he said.