Lord's land claim for Hatfield and Welwyn Garden City 'should not alarm'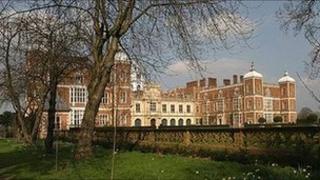 Hertfordshire residents "should not be alarmed" by a lord claiming manorial rights over their land, the Marquess of Salisbury has said.
Lord Salisbury, who owns Hatfield House, has written to people in Hatfield and Welwyn Garden City saying he has access to land they own.
Estate solicitors Bond Dickinson said the marquess is recording "pre-existing ownership" following a law change.
But residents have called for the lord to forego his rights.
Manorial rights are those retained by the lord of the manor when its land became freehold.
These can include rights relating to mining, hunting and holding fairs or markets.
The system dates back to William the Conqueror's coronation as England's king in 1066 when feudal rights were introduced, but recently the Land Registration Act 2002 stated that people with manorial rights must lodge them with the Land Registry before October 2013 - or face losing them.
Hatfield House is the home of the seventh Marquess and Marchioness of Salisbury and has been in the Cecil family for 400 years.
Lord Salisbury's solicitor said following the change in legislation, the marquess had recorded his interests in the Hatfield Welwyn area and is "keen to emphasise that this is a process that records pre-existing ownership".
"Homeowners should not be alarmed by it," a statement read.
He added anyone seeking further clarification should refer the matter to a solicitor.
'No proof'
Resident Amanda White said she was "absolutely furious" and there was "no room for this in the 21st Century".
"I do understand that these alleged rights were supposed to have existed but we have been provided with no proof," she said.
"We are most worried about the mineral rights - there is literally the possibility of undermining our houses."
Ms White, who has set up the Welwyn Hatfield Residents Against the Marquess of Salisbury Manorial Rights group, added that she wanted to "shame" him into giving up these rights.
"If he's not going to exercise them, why register them?" she said.
"He could have chosen not to do it and there are cases where, due to public opinion, the lord of the manor dropped those rights."
In September, the lord of the manor for Patchway in Bristol, Tim Shorland, sent out a notice claiming mining rights for land.
Residents were concerned but he said he never had any intention to mine and later withdrew his rights.