Bedfordshire Police custody death man 'screaming', says witness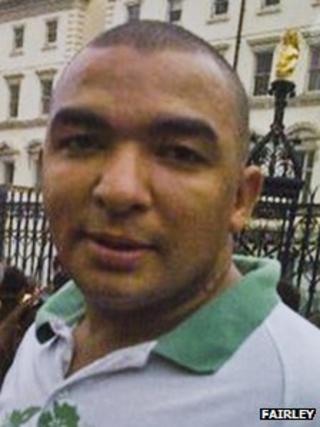 A man who died in Bedfordshire Police custody was screaming during his arrest and complaining his handcuffs were too tight, a witness has said.
Leon Briggs, 38, from Luton, died after being detained in the town on Monday under the Mental Health Act.
Estate agent Taylor Kay said Mr Briggs was "constantly screaming" and he saw two officers "pinning" him down.
The Independent Police Complaints Commission (IPCC) has started a criminal investigation.
Mr Briggs was detained in the Marsh Road area of the town following concerns by members of the public about his behaviour.
He later became ill at Luton police station and was taken to hospital where he was pronounced dead, police said.
The Independent Police Complaints Commission (IPCC) said it believed "that potential criminal offences may have been committed".
The offences could include negligence or manslaughter, it said.
'Bubbly character'
Eye witness Mr Kay told BBC Look East he saw a man being chased by an officer.
"I walked out of the shop and saw two policemen basically restraining this man on the floor. Two officers were pinning him down.
"I walked back in and just kept hearing screaming.
"He kept shouting, 'The cuffs are too tight, the cuffs are too tight', but other than that there was this constant screaming.
"A lady... told me he passed away in custody, so it was a bit of a shock."
A friend of Mr Briggs, Caroline Gregg, said: "Leon was a very bubbly character, really funny and had a really infectious smile... he was liked by a lot of people.
"It's really sad and a big shock."
IPCC Commissioner Mary Cunneen said: "We are still in the early stages of this investigation and it is important that we do not pre-judge the findings.
"However, at this stage we believe there is an indication that potential criminal offences may have been committed including gross negligence and/or unlawful act manslaughter, misconduct in public office, and/or offences under the Health and Safety at Work Act 1974."