M25 fatal crashes to be investigated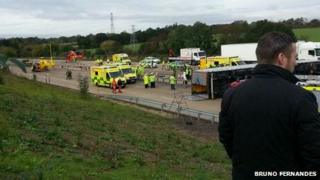 An inquiry into whether roadworks have contributed to a "spike in fatal accidents" on the M25 in Hertfordshire is to be carried out by the government.
Two sisters aged six and 10 were killed in a collision between junctions 23 and 25 in June and a lorry driver was killed last week.
Four men were injured on Friday when a lorry overturned on the same stretch.
Transport Secretary Patrick McLoughlin told the House of Commons he would look to have a full investigation.
The roadworks, which began in February, are scheduled for completion in December 2014, and include the installation of a stronger concrete barrier, strengthening bridges as well as resurfacing the roads.
During transport questions on Thursday, Enfield North MP Nick de Bois, whose constituency takes in the relevant junctions, told Mr McLoughlin there had been a "serious spike in fatal accidents" on that part of the motorway.
He called for the causes, which may include the road management during the works, to be "urgently" investigated.
Mr McLoughlin said the "appalling incidents" had obviously caused great distress to the families of the victims but also "incredible disruption" to the area.
"I will want to have a full investigation as to whether the points that you have raised have any bearings on these particular accidents," he said.
The Highways Agency have not yet commented.