Good Samaritan killer Ian McLoughlin's sentence challenged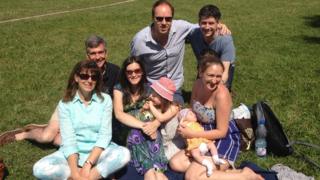 A 40-year tariff given to a murderer who stabbed a man while on prison day-release is to be referred to the Court of Appeal by the attorney general.
When sentencing Ian McLoughlin, 55, the judge said he could not pass a whole-life term because of human rights laws.
McLoughlin - who had killed twice before - stabbed Graham Buck as he came to the aid of a neighbour in Little Gaddesden, Hertfordshire, in July.
Attorney General Dominic Grieve regards his sentence as "unduly lenient".
'Should have been life'
Sentencing McLoughlin at the Old Bailey last month, Mr Justice Sweeney said he was barred from passing a whole-life tariff because of a European judgment that such sentences were in breach of human rights.
McLoughlin murdered 66-year-old Mr Buck during his first day-release from prison, after 21 years in custody.
He was serving a life sentence for the murder of Brighton barman Peter Halls, whom he stabbed in 1992.
McLoughlin had previously been jailed for 10 years for the manslaughter of Len Delgatty, 49, in 1984, whom he beat over the head with a hammer.
A spokesman for the attorney general said: "After careful consideration, the attorney general has decided to make a reference to the Court of Appeal in relation to the sentence of Ian McLoughlin for the murder of Graham Buck.
"McLoughlin received a sentence of life imprisonment with a 40-year minimum term.
"The attorney general considers that a whole-life order ought to have been made on the facts of the case and that the sentence was, therefore, unduly lenient."
'Law not changed'
On the day of the sentencing, Justice Secretary Chris Grayling said whole-life tariffs should be available to British judges, despite a European ruling they breach human rights laws.
"It is the government's clear view that whole-life tariffs should be available for the most serious offenders," he said.
"That is the position clearly stated in our law, and what the public expects.
"The domestic law on this has not changed."