Hertfordshire PCC David Lloyd plans civil 'police academies'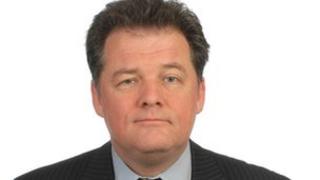 A police and crime commissioner has revealed plans for a "Citizens' Police Academy" to help teach people "how and when to intervene".
Hertfordshire PCC David Lloyd said he wanted to offer "short, sharp training sessions" to help prevent crimes.
He insisted it was "not about trying to take police jobs away".
The Police Federation said it supported public involvement but - referring to the farcical Police Academy films - said the name was "unfortunate".
Mr Lloyd said: "I see this as like learning 'first aid' skills for community safety - short, sharp training sessions that equip people with the resilience and skills to keep themselves and their neighbours safe."
He announced the proposal as part of his "volunteer strategy", which sets out how a range of volunteering options in the criminal justice system could be made more accessible.
"[The strategy is] about getting people to volunteer, perhaps as a special, perhaps in a neighbourhood watch, and the academy is a good way of bringing together how we manage those skills," he said.
Mr Lloyd said he did not want to establish the academies as separate entities but offer them as a resource for existing community groups, such as schools, faith groups and neighbourhood watches.
Neil Alston, from the Hertfordshire Police Federation, said it supported the "broad theme" of Mr Lloyd's plans.
'Educating the community'
"The name is a bit unfortunate and commissioner Lloyd is uncomfortably close to Commandant Lassard [from the Police Academy films of the 1980s and 1990s] but apart from that I think it's probably something we would welcome," he said.
"I think it's useful that people understand the law and what they can do... it's about people understanding what's appropriate and what's not."
In the first Police Academy film, released in 1984, a new mayor announces a policy requiring the police department to accept all willing recruits.
The comic movie - which had six sequels - follows a group of civilians as they try to pass tests in order to become police officers.
Mr Alston added that he "did not expect" it to be policing on the cheap but said the federation would be "pushing against" any suggestion that more volunteers would cost police jobs.
"As I understand it, this is much more about educating the community about what the police do and how they can play their part," he said.
Mr Lloyd is asking the public for views on the proposals before developing a pilot project.