Aylesbury Grand Union Canal lock collapse repairs due to finish in November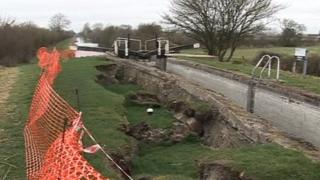 Repairs to a lock which are three months behind and £500,000 over budget are due to be completed by the end of November, the Canal Trust said.
The wall of the 170-year-old Buckland lock on the Grand Union Canal in Buckinghamshire gave way in March. The cause is not fully known.
The £800,000 repairs will be funded by the charity's contingency fund.
Work was expected to be finished by the end of August but investigations and access problems led to delays.
The collapse involved one side of the lock, about 4m (13 ft) high and 30m (98 ft) long, leaning over and almost touching the other side.
It opened up a large crater along the towpath and has meant the lock has remained closed since.
Meanwhile, narrow boats in the Aylesbury basin have been unable to connect to the main waterway.
Access problems
Project engineer Peter Walker said: "We had to understand the cause of the problem and also get our contractors into the site through another live construction site - Arla's dairy project.
"About £200,000 of the cost was spent just getting access to the site as we had to build a new road through Arla's construction site."
He said they were now "much closer" to understanding the cause.
"A lot of it is related to some quite unique clay that underlies the lock that is very susceptible to moisture," he said.
"Last year it was particularly wet and we think that the rain has got into the clay and caused it to swell. We think that has pushed the lock wall over slightly.
"We have had a look at the work Arla are doing and we don't think that was a contributory factor."
The lock is part of the Aylesbury Arm, which opened in 1839 and has 16 locks over a stretch of just over six miles.