Corn snake found on plane travelling to Luton Airport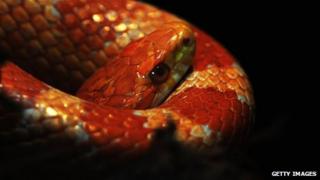 A passenger on a plane travelling to Luton Airport from Israel has been questioned by police after a snake was discovered on the flight.
The man had brought his "small pet snake" on-board the Easyjet flight from Tel Aviv, the airline confirmed.
A spokesman said passengers were "not in any danger". It was later found to be a "harmless" corn snake.
Bedfordshire Police, who met the man when the plane landed, said no further action would be taken.
'Whipped it out'
Some passengers took to social media to say the man had got the snake out during the flight.
Hugo Allon tweeted: "My plane is being met by police because someone brought a snake on board and whipped it out mid flight. Never a dull moment with Easyjet."
The airline said the reptile had remained in its container at all times but as soon as the crew became aware of it they alerted the authorities at Luton Airport.
"We have raised the issue with [Tel Aviv] airport to understand why the reptile was not detected during security," a statement said.