Halloween 'corpse' complaint boosts Stevenage man's cancer appeal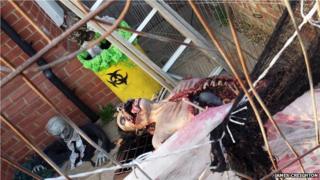 A complaint about a fundraiser's "too scary" Halloween display has led to more donations to charity, he says.
James Creighton's display in Grove Road, Stevenage, included a fake disembowelled corpse. He was using it to raise money for Cancer Research UK.
The charity stepped in to persuade him to change it after Hertfordshire Police said it was frightening children.
Mr Creighton did move the "corpse", but added: "People heard about it and I've raised three times more this year."
He had shown fake corpses and skeletons in his front garden every year since 2009, and said he had never had a complaint before.
'Warning signs'
Mr Creighton said he was a "huge" Halloween fan and started the "gored-up" shows shortly after his grandmother died of cancer, to raise money for Cancer Research UK.
However, a member of the public contacted police earlier this month to say the lifelike model was upsetting her children.
Officers visited Mr Creighton and asked him to move some items.
The charity was also informed of the display as Mr Creighton had a banner on the house informing people who he was raising money for.
A Cancer Research UK spokesman said: "We only ever encourage fundraising activities which have a positive impact in the local community. We took appropriate action to ensure the supporter complied with requests made by the police."
Mr Creighton confirmed the charity had called him.
"They asked me if the police came around again, could I please do what they say. I have their banner, so of course I agreed," he said.
Hertfordshire Police said they had received no further complaints since visiting him.
"I moved the corpse on to a barbecue around the corner, so it was mostly out of sight, and I sort of covered it," Mr Creighton said.
"But I've moved it back into the centre now, It's Halloween now so I don't think it will be a problem."
He said the publicity about his display had increased donations for the charity. Last year he raised £1,100, including £700 donated on the night.
This year, his fundraising total has already passed £2,220 and he expects to reach £3,000.
Mr Creighton said he had received "really good feedback from people".
However, he said next year he planned to move the display to his back garden.
"I'm going to build a walkway to the back, a bit like a ghost walk, and I'm going to put up warning signs. Lots of warning signs."