Staff fired over sex with detainee at Yarl's Wood immigration centre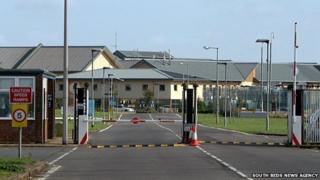 Two male staff members at the Yarl's Wood immigration centre in Bedfordshire have been sacked for having sex with a female detainee.
A 23-year-old Roma woman reported having sex with the two men to police.
A third employee at the Serco-operated centre was also dismissed for failing to take any action when the female detainee reported the two men.
The news was announced by HM Chief Inspector of Prisons Nick Hardwick following a surprise inspection.
However, inspectors found no evidence that a "wider culture of victimisation or systematic abuse" had developed following the allegations of abuse at the 400-bed centre, he said.
Mr Hardwick said: "We were concerned to find that two staff had engaged in sexual activity with a female detainee, something that can never be less than abusive given the vulnerability of the detained population, and these staff have rightly been dismissed."
Yarl's Wood holds mainly single adult women but also holds a number of adult families and there is a short-term holding facility for men.
Inspectors concluded that more female staff were needed urgently as there were not enough for a mainly-female establishment.
They also found that a number of women at the centre - where none of the detainees have been charged with an offence - were detained for long periods, including one for almost four years.
'Emotional needs'
Elsewhere, the surprise inspection found pregnant women had been held without evidence of exceptional circumstances required to justify their captivity.
One of the women had been admitted to hospital twice because of pregnancy-related complications.
And detainees who had clear human trafficking indicators - such as one woman who had been picked up in a brothel - had not been referred to the national trafficking referral mechanism, as required.
Mr Hardwick said: "Yarl's Wood still holds detainees in the middle of a distressing and difficult experience and more thought needs to be given to meeting their emotional and practical needs.
"For the most vulnerable of the women held, the decision to detain itself appears much too casual."
John Tolland, Serco's contract director, said: "We are really pleased that this inspection report recognises the improvements Serco has made at Yarl's Wood and considers it to be an establishment where residents feel safe and there is little violence.
"Our managers and staff have worked hard to establish and maintain good relationships with the residents, who are vulnerable people in the middle of a distressing and difficult experience.
"However, we are not complacent. As the HMCIP report says, we need to make further improvements and we are already working closely with the Home Office to implement their recommendations."