Christopher Symons guilty of Patricia Goodband murder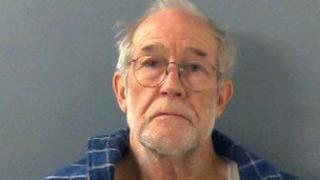 A man has been found guilty of murdering his business partner and throwing her down a well shaft in an attempt to gain a £1m inheritance.
A jury at Reading Crown Court found Christopher Symons, 63, of Cambridge Street, Aylesbury, had killed Patricia Goodband, 76, in December.
Her body was found concealed in the well in the grounds of her home near Aylesbury, Buckinghamshire, in January.
Symons, who had denied murder, will be sentenced on Monday.
The court earlier heard allegations that Symons "used" his sister Kathleen Adams and his lover Jennifer Creasey to hide his crime.
Ms Adams, 74, of Aylesbury Road, Princes Risborough, was found not guilty of one count of perverting the course of justice.
Creasey, 73, of Hale Road, Benson, Oxfordshire, was found guilty of one of two counts of the same charge.
Haulage business
Symons' friend Robert Taft, 59, of Kings Close, Westcott, Aylesbury, had previously admitted perverting the course of justice and possession of ammunition without a certificate.
Taft and Creasey will also be sentenced on Monday.
Ms Goodband, who was last seen on 17 December, was reported missing by her daughter on 9 January.
Her body was found on 21 January.
During Symons' trial, the court heard Ms Goodband had been friends with him for more than 30 years and had run a road haulage and agricultural business with him from her home in Woodham.
The prosecution said he killed her on 22 December in a "cold blooded, planned murder for financial gain", and his "motive was clear".
'Circumstantial evidence'
A post-mortem examination found she died from head injuries.
The defence had said much of the evidence against Mr Symons was "circumstantial and incomplete".
Symons told police he dropped Mrs Goodband off at Milton Keynes station so she could go away over Christmas.
His defence admitted this was untrue, but said Mr Symons was a man who lived a life of pretence and the fact he had lied did not mean he was guilty of murder.
Det Supt Chris Ward from Thames Valley Police said Symons' actions were "pre-meditated and motivated purely by greed".
"In order to inherit her property and share of their business, [he] devised a cruel and calculated plan to murder Patricia and make it appear as if she vanished without a trace," he said.
"This has been a complex inquiry in which we have had to unpick all of Symons' lies in order to uncover the truth."