Bletchley Park to offer cyberspace security advice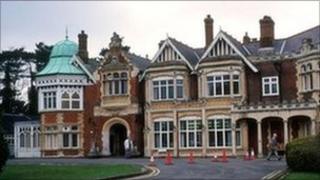 The home of Britain's World War II codebreakers will offer internet safety advice to children when a restoration project finishes next year.
The Bletchley Park Trust hopes annual visitor numbers to the site near Milton Keynes will rise to 250,000.
Software firm McAfee will be a partner in providing an IT learning zone and cybersecurity exhibition.
The trust said it hoped the attractions would inspire the 16,000 children it expected to attend each year.
Bletchley Park, which is currently open to visitors with tours and a museum, was the highly secretive site where teams, including the "father of computing" Alan Turing, broke the German Enigma codes.
The trust is aiming to complete the work in time for the 70th anniversary of the World War II D-Day invasion of France, next June.
'Real difference'
The learning zone and security exhibition will be built in a derelict block on the estate.
Ian Standen, trust chief executive, said: "The work undertaken at Bletchley made a real difference and helped to change the course of history.
"We hope to inspire the next generation of potential codebreakers and cybersecurity experts to keep us safe in the digital world."
Gert-Jan Schenk, European president at McAfee, said: "Working with Bletchley Park allows us to make a real impact on the cyber security education of children, not to mention the chance to help commemorate the part Bletchley Park played in the birth of the information age."