Russell Gill gets life sentence for Darrell Farnham crossbow murder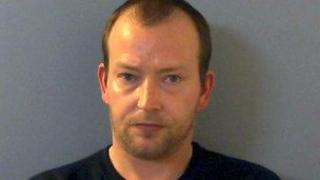 A man found guilty of murdering his former landlord after shooting him through the heart with a crossbow in a row over a drugs debt has been jailed for life.
Russell Gill, 42, of Lavender Walk, Aylesbury, was convicted by a majority verdict of murdering Darrell Farnham, 44, at his Belgrave Road home in June.
Reading Crown Court heard Gill had a drugs habit and owed Mr Farnham £6,000.
Gill was told he must serve at least 24 years.
He had admitted manslaughter but denied murder, claiming Mr Farnham's death was an accident.
'Clinical execution'
During the trial, the court heard Mr Farnham was shot at point-blank range through the heart on 23 June and bled to death on his doorstep.
The jury was told Gill used to buy amphetamine from Mr Farnham, running up a debt.
The prosecution said that on the day of the killing, Gill heard Mr Farnham had been making threats to kill him so took a crossbow and a samurai sword to the victim's home.
Police later found Mr Farnham collapsed on the floor with blood on his chest, holding a crossbow bolt in his outstretched hand.
Gill was arrested four days later and told police he had only intended to scare Mr Farnham but the victim's dog had attacked him during the argument and the crossbow had gone off by mistake.
The prosecution said it was a clinical execution of a man he had come to hate.
'Lethal weapon'
After the verdict, Det Sup Chris Ward from Thames Valley Police called the offence a "pre-planned brutal murder" using "the most lethal of weapons imaginable".
"The victim….had no way of defending himself against this attack," he said.
In a statement, Mr Farnham's family said they were "satisfied" with the verdict.
"Gill has shown no remorse or sadness for this terrible act but attempted throughout the trial to justify his actions and destroy the reputation of Darrell, thus causing further distress to family members," it said.
"Darrell was a larger than life character, always there for his family and friends and his death has touched everyone he knew.
"[He] will never be forgotten but we can now start to move forward and rebuild our lives."