Towcester property swindle couple jailed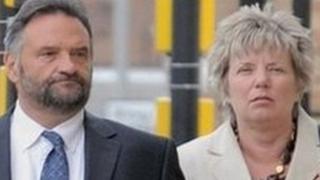 A married couple from Northamptonshire who posed as wealthy high fliers have been jailed for a multi-million pound property swindle.
Richard Jerome posed as an international financier and created a £3.5m fraud in which he tried to buy a luxury home.
He and his wife Hazel, of Watling Street Towcester, posed as rich ex pats who had returned from Barbados.
Mr Jerome was jailed for six years and his wife to two years and three months.
Ex minicab driver Mr Jerome, 65, who was living off his £125 a week state pension and his wife, a former Milton Keynes primary school teacher, were sentenced by Judge Erik Salomonsen after being found guilty of a dozen counts of fraud.
Judge Salomonsen told Jerome: "You are a confidence trickster, you are a menace. You are a fraudster whose motivation is profit without working for it."
'Habitual confidence tricksters'
The Jeromes were finally brought down when estate agents and surveyors learned about their true identity from newspaper cuttings from their conviction at Huntingdon Crown Court in 2009 when Jerome served just a quarter of a 15 month jail term.
The court heard Mr Jerome was committing other frauds while awaiting that trial.
Prosecutor Peter Combe said the Jeromes worked together as a team with him "taking the lead and doing the talking" and his wife telling vendors about their "fantastical lifestyle".
Mr Jerome, who also claimed to be a policeman, targeted rich professional single women along the way.
He used aliases to go on dating websites to attract rich women telling them he was a multi millionaire with global business interests and a £1m a year income.
He duped an experienced woman financier into investing $100,000 and a headmistress he also dated after meeting on the web into handing over £10,000.
During a trial at Exeter Crown Court, a jury heard they made cash offers of more than £3.5m on a £310,000 cliff top home in East Looe, Cornwall, the £750,000 former home of writer R F Delderfield in Sidmouth, Devon, as well as a £2m farm property near Daventry, Northamptonshire, and a £560,000 house in the same area.
They aimed to persuade the owners to let them move in while the deal was being closed as funds were transferred from abroad - but there was no money - and the couple became middle class squatters who refused to budge or pay rent.
They had previously been convicted for doing the same thing as they squatted in high value homes around the UK. One of their victims then was a leading criminal barrister and her late husband.