Hemel Hempstead roadworks suspended over Christmas trade period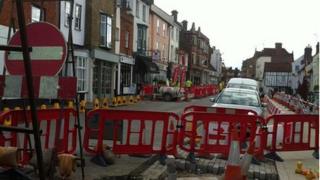 Work on a road scheme where workers have been accused of "putting their feet up" will be suspended over the Christmas trade period, a council said.
The one-way system in Hemel Hempstead's Old Town in Hertfordshire, was due to finish at the end of October.
Dacorum Council wanted to implement road closures to complete the work by December, but traders complained.
Hertfordshire Highways said it would finish the work in the new year and it should have "managed the works better".
Hertfordshire County Council, which is running the project on behalf of Dacorum Borough Council, had already installed CCTV cameras to check on workers involved in the scheme in Old Town High Street.
Hertfordshire Highways said its "preferred option" for completing the scheme was to double resources to allow work to finish by 2 December, but this would have involved "quite a few days of road closures".
Businesses said they had already experienced a drop in trade and many could be forced out of business if the road was shut.
'No closures'
Spokesman Sanjay Patel said: "We do apologise for the way it's been handled, it's not been managed as well as we'd intended."
Barry Garvin, from Fretts music shop, whose takings were down 40% since the work began, said he felt vindicated.
"No option would be ideal other than they finish the works when they said they would but that's clearly not going to happen," he said.
"In fairness, they realised it wasn't just an inconvenience to us but saw the massive effect [the works] were having on our livelihoods ..... and have taken our concerns on board."
The council said the work is now due to be completed in February or March time.