Kevin Johnson: 'Staggering' bequest helps dog home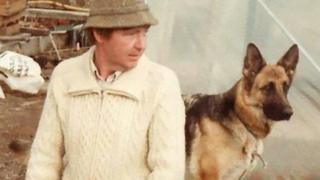 A Hertfordshire man who adopted a German shepherd from an RSPCA home has left it nearly £400,000 in tribute to her memory.
Kevin Johnson, 59, from Puckeridge, bequeathed £364,568.68 to the Friends of RSPCA Southridge, near Potters Bar.
He died from a heart attack, two months after his dog, Chelsea, was put down following a stroke, the charity said.
Chairman of the Friends, Terry Pavey, said the "staggering inheritance" would "do so much good".
Mr Johnson owned the dog for seven years after re-homing her when she was about three.
'Last chance saloon'
His aunt, Myfanwy Gilham, said he was "devastated at losing Chelsea" but wanted the centre to carry on their "good work".
"He left the friends the money in memory of her," she said.
Mr Pavey said the donation would "safeguard" its fostering scheme, which usually costs about £42,000 annually to run, "for years to come".
The charity calls this the "last chance saloon" where homes are found for older animals, and the carers' vet and food bills are covered.
"Old animals are incredibly hard to re-home," he said.
"Words cannot express enough our gratitude to [him] for leaving us this staggering inheritance."
The money will also go towards a number of other projects, including a new dog agility and play area and a garden for cats.
"The dogs will get about half an hour each to burn off excess energy or aggression," he said.
"We also want to emulate someone's back garden to give about 10 cats at once some time out of their pods.
"This money won't stretch forever but it will do an incredible amount of good."
An RSPCA spokeswoman said: "It is always very moving to hear stories about such deep affection between a man and his pet.
"Re-homing a rescue animal who may not had have the best start in life can be an incredibly rewarding experience, as Mr Johnson discovered.
"We are extremely grateful for this very generous legacy and hope it can help other animals find similarly loving homes in the future."