Hertfordshire speed limits 'technically unenforceable'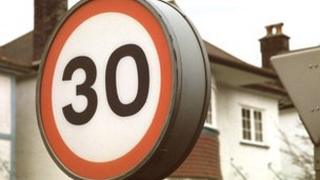 Speed limits on some roads could be "technically unenforceable" because of a paperwork error.
Hertfordshire County Council said it had found errors with older Traffic Regulation Orders (TRO) in Barley and said other places could be affected.
The authority said emergency legislation had been issued in Barley so limits there could now be enforced.
But it added it would "act swiftly" to rectify any other problems it found.
Traffic Regulation Orders are legal documents made under the Road Traffic Regulation Act by each local authority to enforce speed limits on its roads.
The council has not revealed what the specific error with the paperwork is or the extent to how many roads it could affect.
However, it said it was "working with police to establish what the implications might be for people who have been penalised for speeding where a traffic order is identified as potentially open to challenge".
In 2008, thousands of people got their money back from speeding fines on the Lower Luton Road near Harpenden after the council admitted the speed limit was not enforceable.
Terry Douris, cabinet member for highways, said: "We are currently reviewing all our speed limit paperwork and while doing so we've discovered discrepancies with some older Traffic Regulation Orders which could make some speed limits technically unenforceable.
"Whilst we are looking into other locations across the county I would like to remind people that the speed limits on our roads are appropriate and it would still be dangerous to drive faster than the limits signposted."
Hertfordshire Police said: "The police have various powers in addition to those specifically relating to speeding which will be used appropriately and proportionately to tackle anti-social driving."