Hertfordshire Police investigate A10 Cheshunt BMW stop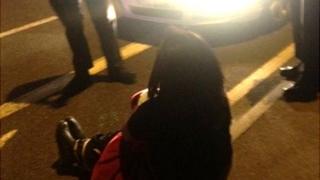 Police officers allegedly smashed a car window as a woman who said she felt "too threatened" to leave sat in the driver's seat with a baby on her lap.
A complaint has been made to Hertfordshire Police about the episode said to have happened on the A10 in Cheshunt.
The woman, her sister and her niece had been at a sales conference and were heading home to the Manchester area.
The force said it was investigating the complaint.
A passenger, who asked for her name to be withheld, said there was no clear reason why they were pulled over on their approach to the M25 at about 01:45 BST on Thursday.
One of the women in the BMW said they were driving at about 30mph in a 50mph zone.
The woman said they were first asked if they were lost. It later emerged the driver thought she was insured on her sister's vehicle but was not.
The driver went to the police vehicle to discuss the matter.
At that point, the women say, the owner of the car - also the mother of the baby - got in the driver's seat with her baby on her lap.
The incident was recorded by the niece on her mobile telephone.
'Your friend is an idiot'
She tells officers she believes they have been pulled over because they are black - something disputed by one of the officers.
The driver then tells police: "I'm feeling threatened by you, I want to talk to somebody else."
One of the officers is heard to reply: "I hope you do."
The driver then says: "I'm very frightened and I'm scared."
The police are understood to have taken out their batons and a second police officer is heard talking about contacting "social services".
Police smash the window of the car and an officer is heard saying to the driver "look at the mess you've made".
Another officer says: "Your friend is an idiot, you could have been driving away right now."
The driver was put in handcuffs - but police have not confirmed whether an arrest was actually made.
BBC 3CR were told by the women they were then separated, driven back to the hotel by the police - one officer drove the family vehicle - and the family was told to "have a good evening" before they were left on their own.
The women then went to get their window repaired and then drove home.
In a statement, Hertfordshire Police said: "Hertfordshire Constabulary's Professional Standards Department is currently investigating a complaint from members of the public following an incident on the A10 in Cheshunt.
"As this incident is currently being investigated it would be inappropriate for us to comment any further at this time."