Hertfordshire Police escort M1 cyclist off motorway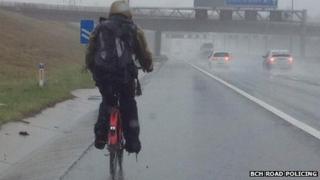 A cyclist has been branded a "dummy" by police for riding on the hard shoulder of the M1 in Hertfordshire.
Motorway drivers reported a man riding on the southbound carriageway just before junction 9, near Redbourn, at about midday on Sunday, police said.
He was escorted off at the junction by officers who then tweeted a picture with the hashtag "don't be a dummy".
A spokeswoman confirmed the unnamed man was advised it was against the law but said no further action would be taken.
The cyclist, who said he was travelling to London, told road policing officers he would catch a train instead, she added.