Luton Fountains Road drive-by shooting: Second man charged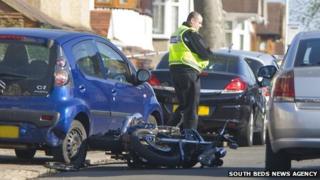 A second man has been charged in connection with a drive-by shooting that took place in Luton in May.
Shots were fired from a motorcycle at a BMW car in Fountains Road on 5 May but the driver was unhurt.
Rene Lawrence, 24, of Luton, appeared before Luton magistrates charged with two counts of conspiracy to murder and was remanded in custody, police said.
Another man, Khadeem Newell, 23, has already been charged with attempted murder and a firearms offence.