Hertfordshire council films 'no sense of urgency' road workers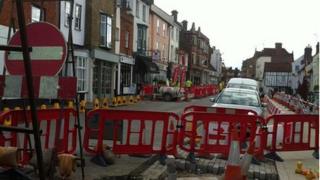 A county council has installed CCTV cameras to check on workers involved in over-running roadworks over claims they had "no sense of urgency".
Work on Old Town High Street, in Hemel Hempstead, Hertfordshire, is expected to overrun by up to five weeks.
Traders who want compensation for loss of revenue have reported workers "with their feet up" and "walking their dog".
Contractors Jackson Civil Engineering said using CCTV was a "collective decision" to "monitor" the work.
Businesses are demanding compensation for a drop in trade and said the overrun could force many of them out of business.
Barry Garvin, from Fretts music shop, said his takings were down 40% and he was three weeks from closing because of the "mismanaged and poorly executed" project.
'Saw him stir'
He said he regularly saw men in diggers "with their feet up", texting and walking around "just chatting" or leaning on shovels with "no sense of urgency".
"We expected disruption but we also expected the works to be carried out efficiently," he said.
"Last week there was a guy sitting in a digger, he was there for four hours and didn't move, I honestly thought he'd died, I was going to see if he was OK then I saw him stir."
Liz Shipton, from the Rose and Crown public house, said the work was "a complete shambles".
"The guys are sitting round doing nothing all day, one of them was walking his dog up and down yesterday," she said.
Work to install the one-way system, run by Hertfordshire County Council (HCC) for Dacorum Borough Council, started in June and was due to finish at the end of October.
Dacorum council leader Andrew Williams confirmed the work was due to be completed by the end of November.
A spokesman for the contractors said "unforeseen circumstances" meant it had to "alter its approach" to the work, which had an effect on time and cost.
It said it had an "open and honest discussion" with both councils.
"We took the collective decision to install cameras on the project to ensure the progress of the job can be monitored in the most efficient way possible," a statement said.
No compensation
Mr Williams said the cameras were to "make sure the amount of work that is supposed to be carried out is being completed".
HCC said it was "not a covert operation" as all the workers were aware of the cameras, they were not manned on a live basis and it just meant the council could see if a complaint was valid.
County councillor Terry Douris said it was about "making sure that we are getting the best out of [the contractors]".
"We are paying these people and [any inactivity] like that would all come out in the final wash when the final bills are applied for and settled," he said.
Mr Williams added the authority would not be compensating traders for loss of revenue because highway works are "something that have to be carried out".
"You can't make such a major on-street improvement without closing roads and, unfortunately, affecting footfall," he said.
HCC said the installation would cost up to £700, but confirmed connections from the usual town CCTV were being used so, as the area was already covered, any legal permissions were already in place.