First Capital Connect loophole commuter pursuit 'unreasonable'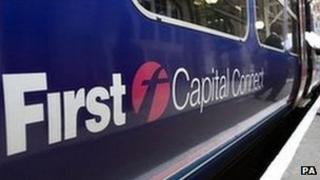 A train operator's legal pursuit of a commuter over a ticket loophole was "unreasonable", a judge has ruled.
St Albans lawyer Andrew Myers found the annual First Capital Connect (FCC) fare to London was about £700 cheaper if he bought his ticket from Watford North.
FCC said it was only valid from Elstree and forced Mr Myers to purchase a ticket between St Albans and there, which led him to sue the company.
He was awarded £2,193 at St Albans County Court.
My Myers said he discovered online last November that a yearly ticket for travelling from St Albans City was £3,908, while those travelling from Watford North paid £3,200.
'Public interest'
He said he bought the cheaper ticket after reading on the National Rail Enquiries journey planner that those with Watford North tickets could choose to travel via St Albans - about six miles away and on a different line into London.
"It clearly said, if it is shown on the journey planner as a through route with one ticket, you could use it, so I bought it," he said.
"In January, a ticket inspector refused me access so I showed him a print out of the website showing you can use it via St Albans and he said the website must be wrong."
The company said it would be valid from Elstree, so Mr Myers spent £1,591 on a ticket from St Albans to there and took FCC to court to claim it back.
FCC offered to settle out of court on a non-disclosure basis but Mr Myers said there was "a public interest in the claim being heard".
At St Albans County Court, Mr Myers showed, through emails obtained under the Data Protection Act, that the company had continued to fight his claim, despite being told by the Association of Train Operating Companies (ATOC) that the route was valid.
'Error corrected'
A judge awarded him £2,193, which included his court costs and £288 for hours he spent on the case, and ruled FCC's behaviour in continuing to fight his claim "unreasonable".
"Sometimes you have to fight, the small man fought and the small man won," Mr Myers said.
Afterwards, FCC said Mr Myers had uncovered a "previously unknown apparent historic routing guide anomaly", which dated back to the days of British Rail.
A spokesman said the company had "queried the issue with ATOC... they subsequently advised us that they had rectified the apparent anomaly but that turns out not to have been the case".
"Clearly we will evaluate carefully what the court has said."
An ATOC statement said it was an "error that has been corrected".
"Tickets and travelcards from Watford North to London are not valid via St Albans," it said.
"Information systems are being updated as quickly as possible to ensure all prices are accurately displayed."