Rare Javan Banded Pitta bred at Waddesdon Manor Aviaries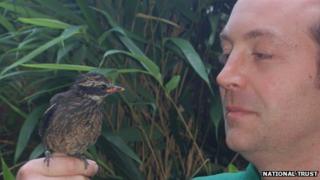 A Buckinghamshire aviary claims it has successfully hand reared a rare chick in captivity for what is believed to be the first time in the UK.
Waddesdon Manor Aviaries said it had tried to breed a chick from its Javan Banded Pitta since the birds has arrived in 2007.
It said it had the only pair of the species in the UK and that breeding had only been successful this year.
A caged birds expert has called the achievement a "triumph".
Senior aviculturist at Waddesdon Manor Aviaries, Gavin Harrison, said there were 34 species of Pitta, all of which are threatened with extinction as they were "under great threat" from the Indonesian caged bird trade.
He added the rearing of the chick was "a real step forward" in "maintaining captive populations" and, as far as they knew, it had only been achieved in Germany before.
'Punch the air'
"[This is] certainly a very rare occurrence, which will hopefully aid in our understanding and competence in breeding pittas in captivity," he said.
Mr Harrison said previous attempts to rear the birds had failed but was unsure why it proved so difficult.
"Some of the dietary techniques we've used this year have been really crucial," he said.
"We're hoping this chick is a female because there is another male we can pair it up with in a German collection so we can create a second pairing."
Robert Innes, editor of Cage and Aviary bird magazine, said the birds were "notoriously difficult to rear" and he would "put his mortgage" on it being a first for the UK.
"The fact that a privately supported team can rear a bird like this is a triumph and makes the average bird keeper want to punch the air," he said.
"It is a breakthrough to prove that these birds could be kept in captivity."