Luton Borough Council defends ITV1's Splash return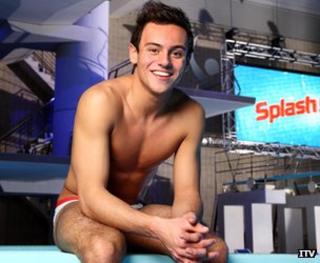 Luton Council says lessons have been learned from hosting ITV1's Splash! at its community pool, as it agreed a second series could be filmed there.
The programme, in which Olympic diver Tom Daley teaches celebrities the skill, will again be filmed at Inspire: Luton Sports Village, it confirmed.
Last year, there were complaints about parking and lessons being disrupted.
A spokeswoman said it had given itself "more time to prepare" for the filming during January and February 2014.
Luton Borough Council said it had agreed with production company Twofour for the second series to be filmed at the £26m sports and leisure centre, for an undisclosed fee.
As with the first series, the centre will remain open with additional leisure swim time being made available in the community pool when the competition pool is closed for filming.
'Extra sessions'
The council's director of community living, Pam Garraway, said it understood people had "some concerns", but it had already identified who and what would be affected.
"We can now begin detailed discussions with affected groups and start making alternative arrangements and organising extra sessions well in advance," she said.
Ms Garraway also confirmed part of its planning included using a professional parking company to marshal during filming.
The council has hailed the first series a success because it encouraged more people to use the centre, with more than 200 people signing up to learn to dive at the pool during this year's transmission.
"There is a substantial waiting list for both swimming and diving lessons," said Ms Garraway.
Helen Barnet from Active Luton, which operates the centre, said the first series had also allowed it to make additional investment, "which would otherwise not have been possible".