Unison attacks 'sneaky' plan for Bedford Hospital future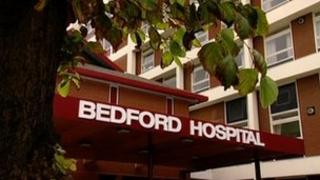 The loss of children's services at Bedford Hospital is a "sneaky" attempt to force other cuts under the guise of protecting care, a health union said.
Children's A&E, planned surgery and overnight observation were suspended in August over staff shortage concerns.
A Unison report said this is the first of "piecemeal cutbacks" resulting in "ever-fewer" local services.
Bedford Hospital NHS Trust denied any "conspiracy" and said it was attempting to meeting the needs of its people.
The trust suspended the services for under-19s from the end of July after junior doctors expressed concern about inadequate levels of supervision.
Since 1 August, patients have been transferred to Milton Keynes Hospital or another neighbouring hospital.
A Unison report, researched by Dr John Lister from London Health Emergency, said that what "appeared to be a series of unplanned events" affecting children's services was part of "a far-reaching, long-term plan to reorganise services" across Milton Keynes, Bedfordshire and Northamptonshire.
The report said Bedford Hospital faced being "downgraded to little more than a satellite clinic" of the Milton Keynes Foundation Trust.
Demand for honesty
The hospital's acting chief executive Stephen Conroy said: "I recognise the concerns expressed by Unison in this report and I want to state unequivocally the board and clinical leadership team are working with local partners to secure the long-term future of Bedford Hospital.
"We have been open and honest about the issues we face - both financially and at clinical service level - in ensuring that we have the right number of professional staff to meet changing standards and deliver the best care for patients.
"Discussions around finding the best solution for sustainable local health services are still at a very early stage.
"There is no conspiracy here - just a trust trying to do its best to meet the needs of local people now and in the future."
The union said it would resist "sneaky and underhand attempts to soften up public opinion for cuts and forcing through unacceptable cuts under the guise of protecting standards or care".
In a statement, the Unison Bedford Health branch said: "We demand that the trust executives now be open, honest and transparent about what their real plans are for the future of healthcare provision in Bedford."
Bedfordshire Clinical Commissioning Group said it was consulting over the future of paediatric services.
Chief clinical officer, Dr Paul Hassan, said the removal of children's services from Bedford was "an opportunity to ensure the service that comes back is the best it can be and meets the needs of local people".