Christopher Symons 'threw Patricia Goodband in shaft'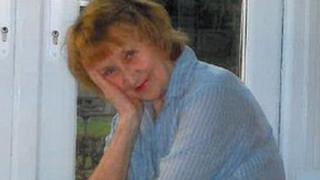 A company director was beaten to death and thrown down a brick shaft by her business partner who stood to gain from her will, a jury has heard.
Christopher Symons was expected to inherit a £1m fortune from 76-year-old Patricia Goodband, Reading Crown Court heard.
Her body was found concealed in the shaft in the grounds of her home near Aylesbury, Buckinghamshire, in January.
Mr Symons, 63, of Cambridge Street, Aylesbury, denies murder.
The court heard Ms Goodband had been friends with Mr Symons for more than 30 years and had run a road haulage and agricultural business with him from her home in Woodham.
'Very dark story'
Joanna Glynn QC, prosecuting, said: "This was not a normal friendship; this was not a normal relationship."
Ms Glynn described the case as "a very dark story", and alleged that Mr Symons "used" his sister Kathleen Adams and his lover Jennifer Creasey to hide his crime.
Police found Ms Goodband's body after it was thrown into the shaft "in the most callous way you can imagine", covered in soil, large stones and plastic bags full of rubbish, the jury heard.
In 2008, she had a will drafted so that almost everything she owned would be left to Mr Symons when she died.
Her own home was worth in the region of £550,000 to £600,000 and another house she owned was worth in the region of £170,000 to £200,000.
She also had bank accounts which were in both her name and Mr Symons's name containing £230,000 - money he stood to acquire if she died, the jury heard.
'Entirely fabricated card'
The Crown's case is that he killed Ms Goodband on 22 December 2012 in a "cold blooded, planned murder for financial gain", and his "motive is clear", Ms Glynn said.
The court heard Mr Symons' sister signed a police statement after Ms Goodband had been killed saying Ms Goodband had told her she was going to visit her daughter in Yorkshire over Christmas.
Ms Creasey, who was "passionately in love" with Mr Symons, wrote an "entirely fabricated card" which suggested "Pat" would meet with a "Sue" in Stockton on 22 December, the jury was told.
A post-mortem examination found Ms Goodband died from head injuries.
Ms Glynn described the murder as "callous, brutal and cruel in the extreme".
Ms Adams, 74, of Aylesbury Road, Princes Risborough, denies one count of perverting the course of justice.
Ms Creasey, 73, of Hale Road, Benson, Oxfordshire, denies two counts of the same charge.
The trial continues.