Bedford shopkeeper murder accused 'heard loud bang'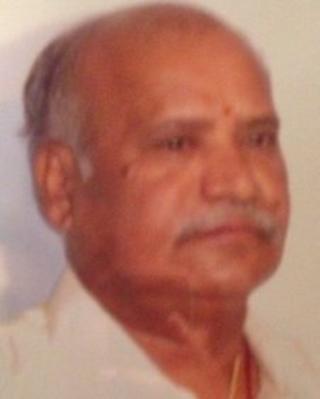 A man accused of murdering a shopkeeper told police he was on a break when he heard a loud bang, a jury has heard.
Vairamutha Thiyagarajah, 56, was attacked in a flat above MK Food and Wine in Bedford in April and died four days later.
At Luton Crown Court, employee Thilak Mohan-Raj, 25, who lived above the shop, denies a charge of murder.
Giving evidence, PC Paul Reddington said when he arrived at the shop he believed it to be "a crime scene".
Mr Thiyagarajah, known as Appa, lived in Bletchley, Buckinghamshire, but stayed above the Elstow Road shop because of long working hours.
'Crime scene'
The takings from the day before the attack were found in a drawer in Mr Mohan-Raj's room, the court heard earlier.
Mr Mohan-Raj has admitted stealing a day's takings of £2,500.
PC Reddington told the court on Monday when he arrived at the shop in the early evening he found an ambulance crew with Mr Thiyagarajah, who had bandages and padding around his head.
"The injuries were serious and potentially not an accident," the officer said.
"In my opinion there was a crime scene at the location."
He said he spoke to Mr Mohan-Raj, who said he had been upstairs resting when he heard a loud bang and came down to find Mr Thiyagarajah on the floor unconscious with a head wound.
PC Reddington told the jury he decided to arrest Mr Mohan-Raj, who had come to England from Sri Lanka to study in London, on suspicion of causing grievous bodily harm.
Prosecutor Michael Speak said Mr Mohan-Raj had admitted taking the £2,500.
The money had been removed from the victim's locked bedroom, which he also used as an office, and was found in a drawer in Mr Mohan-Raj's bedroom.
'Challenged by Appa'
"The crown say the defendant took the money from Appa's room and concealed it in the other bedroom," Mr Speak told the court.
"At some point during the process he had been disturbed or challenged by Appa about the money not being where it should be. The assault took place on Appa, which proved fatal," he said.
The jury was told that the defendant called for an ambulance, telling the paramedic that his boss had fallen from upstairs and hurt himself.
On seeing the severity of the injuries, it was alleged that the paramedic had his doubts about what he had been told and called for the police.
Mr Speak said: "It is likely that the defence will be that he acted in self defence. The defendant has pleaded guilty to a charge of burglary, namely the burglary of Appa's bedroom where he had no right to be."
The trial continues.