Luton jeweller who told gunman 'go on, then' gets award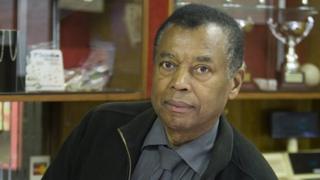 When jeweller Derek Tatham was threatened with being shot and killed by an armed robber, he stared back at him and gave the cool rebuke "go on, then".
Masked Clayton Patterson had pointed a real gun at the Luton shopkeeper, telling him "this is a hold up, I need everything", and threatened to shoot.
Risking death or serious injury, Mr Tatham refused to hand over a thing, reminded the robber he was being filmed and hit him with a machete.
The struggle meant Patterson wriggled out of his jumper, providing vital DNA for police.
More than two years after the incident at Tatham Jewellers, 67-year-old Mr Tatham has been rewarded for his bravery by a judge who jailed Patterson for nine years.
Pressed panic button
He was working alone in the shop on 12 July 2011 when drug addict Patterson pretended to be a customer interested in engagement rings, Luton Crown Court heard.
When Mr Tatham turned his back, Patterson pulled a mask over his face and produced a pistol.
Prosecutor Peter Glenser said: "The robber said, 'this is a hold up, I need everything,' but the shopkeeper coolly said, 'you are not supposed to point guns at people.'
"The gunman then threatened to shoot and kill him, but Mr Tatham said, 'go on, then,' and pressed a panic button, again challenging the man to shoot him, saying it was being recorded on camera."
Patterson tried to leave, but the doors were locked and Mr Tatham hit him with a machete and grabbed his jumper.
The gunman found keys and got the back door open but had to wriggle out of his jumper to break free.
Tests on the clothing revealed his identity.
'Kept his head'
He denied the offence, but was convicted by a jury last month of attempted robbery and possessing a firearm with intent.
Mr Glenser said the real firearm was not loaded but Mr Tatham would not have known that.
He said: "Mr Tatham acted with extreme bravery and coolness in the face of very considerable personal danger. He kept his head when others would have lost theirs, refusing at gunpoint to hand over his possessions."
Judge David Farrell QC said Mr Tatham should receive a £250 reward for his bravery.
"This was extremely valiant behaviour and the act of grabbing his clothing enabled scientific examination to take place which led to the conviction," he said.
Patterson, of no fixed address, was also sentenced for a robbery at a cash machine in May this year, which he admitted.
Robert Ward, defending, said Patterson had relapsed into drug abuse when he went into Mr Tatham's shop.
"He has written a letter expressing his remorse and describing the desperation he was in at the time," he said.