Havard School in £2m counter-claim against Harvard University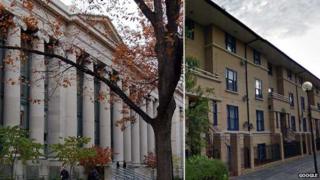 A Milton Keynes business school being sued by an American university over an alleged trademark infringement says it is seeking £2m in a counter-claim.
Harvard University is seeking damages and an injunction against the Havard School of Management and Technology.
Havard founder the Reverend Dr Tina Beloveth Powerful said she named the UK school after her grandfather.
She said she was prepared to change the name but needed £2m to cover money spent so far on the school.
In a preliminary hearing at the High Court last week, the US university claimed there was "evidence of confusion" between the two establishments.
The Buckinghamshire school was not represented but the court heard it had issued a counter-claim.
Dr Beloveth Powerful told the BBC the school was seeking £2m because a lot of money was spent setting up the school.
"A good name is better than silver and gold," she said.
"Having said that, we are telling them we want to step aside but we have spent money in advertising, marketing and productions."
'Name immortalised'
The Havard School, which was founded in 2010 and is based in Ascot House, North Third Street, says on its website it offers courses in business, computing, management, accountancy and travel, tourism and hospitality, mainly for overseas students.
It would not reveal how many students it had, but said it had some in its UK classrooms plus overseas students online.
Dr Beloveth Powerful said: "My paternal grandfather's first name was Havard, so because I was so close to him before he died, I chose to immortalise his name.
"I never thought about Harvard [in America], [it] has nothing to do with the name."
She said she was "taken aback" when the American university sent a letter in August 2012, saying the Milton Keynes school had infringed its copyright.
Harvard, based in Massachusetts, was this year ranked the world's number two university and counts eight US presidents, including Barack Obama, among its alumni.
The case will be heard in February.