Luton and Millwall FA Cup tie: Four jailed over 'stand-off'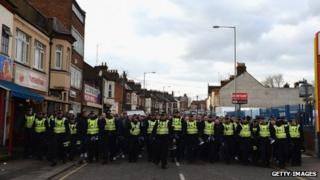 Four men have been jailed for affray after trouble broke out as Luton Town faced Millwall in an FA Cup tie this year.
There was a short "stand-off" between police and some fans in Dudley Street and Old Bedford Road in Luton before kick-off on 16 February, police said.
After the game, a number of incidents took place in the town centre.
Nine men appeared at Luton Magistrates Court. Five others were fined for public order and drinking offences.
All the defendants, aged between 19 and 39, pleaded guilty to the offences, which took place on the day of the FA Cup fifth round match at Luton's Kenilworth Road ground, which ended in a 3-0 win for Millwall.
Banning orders
Nicky Sanders, 21, of Whipperly Way, Luton, was jailed for six weeks and Tyrone Fuge, 39, of Lowther Road, Dunstable, was given a 10-week sentence.
Christopher Fowler, 36, of Chantry Avenue, Kempston, will serve a 14-week jail term, while Benjamin Currington, 25, of Clifton Road, Shefford will serve five weeks.
The four men were also given six-year football banning orders,
Four other men were ordered to pay fines, court costs and victim surcharges for offences under Section 5 of the Public Order Act 1986. Each received three-year football banning orders.
Luton man Grant Mitchell, 19, of Parys Road, must pay £360. Daniel O'Keefe, 19, of Aldbanks, Dunstable and Aaron Timms, 19, of Stewartby Way, Stewartby, were ordered to pay £215, while Joshua Plumb, 19, of St Leonards Street, Bedford, must pay £265.
Ben Smith, 25, of Williams Way, Flitwick must pay £580 for being drunk and disorderly and received a three-year football banning order.
Three other men charged with offences surrounding the same game were dealt with earlier.
Last month, Thomas Howson, 19, of Mentmore Crescent, Dunstable was ordered to pay £305 and received a three-year football banning order. Kevin Davis, 33, of Queensdale Crescent, London received a 12-month conditional discharge for public order offences and had to pay £100 costs.
Liam Jones, 26, of Chapel Street, Luton, appeared before magistrates on 11 September and pleaded not guilty to similar offences. He is due for trial at the same court on 23 October.