Rachel Manning: Barri White and Keith Hyatt compensation 'approved'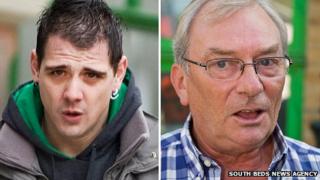 One of the two men wrongly convicted over the murder of Rachel Manning said their compensation bid had been "signed off" by the Ministry of Justice (MoJ).
Barri White and Keith Hyatt were jailed in 2002 and had their convictions quashed in 2007.
They re-applied for a pay-out after Shahidul Ahmed was jailed for murder earlier this month.
Mr Hyatt said he was told by the MoJ it had approved the application. It said it did not comment on individual cases.
Mr White was initially convicted of her murder and jailed for life and Mr Hyatt was found guilty of perverting the course of justice on the basis that he helped his friend dump the body.
Miss Manning, 19, had been on a night out in Milton Keynes in December 2000 with her boyfriend Mr White when the couple quarrelled and went their separate ways.
Her body was found in undergrowth at Woburn Golf Club two days later. She had been strangled.
'Over the moon'
An investigation by BBC Rough Justice questioned the evidence used to convict the men, which led to a successful appeal in 2007.
Restaurant worker Ahmed, of Bletchley, was charged with murder when his DNA was taken by police for a 2010 sexual assault.
It matched a trace sample found on a steering lock used to hit Miss Manning.
He was convicted and jailed for a minimum of 17 years on 4 September.
Speaking to the BBC, Mr Hyatt said he was yet to receive written confirmation but had been told by Chris Grayling's office that the application was going through.
It is the third time the men have tried to receive compensation since 2007.
"Ahmed getting convicted and our letter of apology from police, which we got about a week after the end of the trial, have both helped this time," said Mr Hyatt.
He added that he had not been told how much he and Mr White would receive but said he and his friend were "over the moon".
Mr Hyatt said: "We're claiming not just for the time we were in prison, but for being away from our families."