Restored Bletchley Park Enigma code hut opens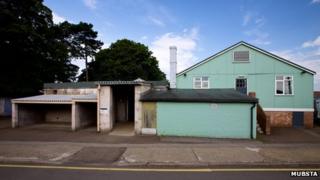 One of the first huts to house the Enigma code breaking device at Bletchley Park has reopened after restoration.
Hut 11 at the Buckinghamshire museum housed the large electro-mechanical Bombe devices, which decrypted German military messages during World War II.
The restoration work, including a new exhibition, was funded by a £250,000 legacy from a veteran.
The hut will also house the museum's rebuilt Bombe machine.
Bletchley Park was the wartime home of the Government Code and Cypher School which broke the codes generated by the German Enigma machine, using the Bombe, which was developed by a team including mathematician Alan Turing.
The Enigma machine was used by the German navy, air force and army to send encrypted messages.
Some historians believe the work done at the site may have shortened the war by up to two years.
'Hell Hole'
Hut 11, nicknamed the Hell Hole by the Women's Royal Naval Service (WRNS) due to the hot, noisy conditions, was the first brick building on the site and, together with Hut 11A housed the first of the Bombes.
It has been restored and then recreated as a wartime building and houses an interactive exhibition, which includes stories of the veteran's time at Bletchley Park.
Visitors can try turning the drums of the Bombe to the correct position, illustrating the level of knowledge and concentration required during long, round-the-clock shifts.
Exhibition designer Steve Lumby said it was important to get the veteran's story right.
"It's a great help that you can go back to the original source because so many of them are still alive," he said.
"The exhibitions are about the people who worked here and will give them a chance for their voices to be heard."
The work was funded by a £250,000 legacy from veteran, Maureen Jones OBE, who started at Bletchley Park, aged 18, as a temporary clerical worker during World War II and stayed on afterwards with GCHQ.
Money left over will go towards the restoration of the currently empty Hut 11A to its original state.
This money is in addition to the £2.7m raised to unlock a £5m Heritage Lottery Fund grant to restore other museum buildings.