Gillian Taylforth ex-partner Geoff Knights too ill for court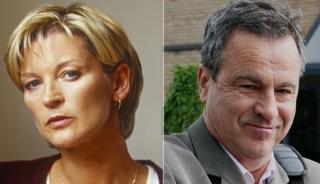 The former partner of soap star Gillian Taylforth was too ill to attend court to face charges of harassing her.
Geoff Knights, who is being treated for stomach cancer, collapsed last Thursday and is being treated in hospital.
Mr Knights, 58, of Hoddesdon, is accused of making a series of telephone calls to the ex-EastEnders actress and breaching a non-molestation order.
St Albans Crown Court adjourned the case until 22 October for a plea hearing.
Mr Knights' barrister Roderick James, told the court: "Mr Knights has undergone surgery to have a tumour removed from his stomach.
"He was released from hospital last week with a view to receiving chemotherapy, but he collapsed on 19 September and has been in hospital ever since.
"The doctor who examined him on 12 September said then he believed he would not be fit enough to attend court for a plea and case management hearing today."
Mr Knights and Ms Taylforth were together for 23 years and have two children, aged 21 and 14. Their relationship ended in 2009.
Mr Knights of The Lampitts in Hoddesdon, was made the subject of a non-molestation order in July 2009 banning him from contacting the 58 year old actress, who has also starred in The Bill, Footballers' Wives and has appeared on Strictly Come Dancing.
At a hearing before Stevenage magistrates in June, he denied three charges of breaching the order.