Luton and Dunstable guided busway 'good for economy'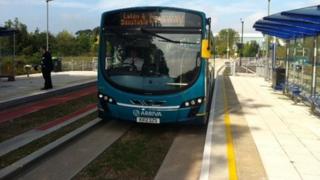 Luton and Dunstable's £91m guided busway will be "good for the economy of the town" but a rail link would have been more attractive, Norman Baker the transport minister has said.
He has officially opened the eight-mile (13.4km) mainly guided route which runs along a stretch of old railway line.
The Luton Borough Council project had been due to open in April and was £0.5m over budget.
Mr Baker said the busway would be "beneficial to Luton, environmentally and economically".
The council claims it is "the second longest busway in the world and the longest in an urban environment".
Airport link
Mr Baker said: "It's a very good day for the economy of the town.
"I'll be astonished if this doesn't work, because this is going to cut journey times by half between Luton and Dunstable and it's going to be a regular, predictable service which won't be subject to traffic jams."
When asked if a rail link would have been a more attractive alternative to the busway he agreed, but added that was not the choice he faced on becoming a minister in 2010.
"The choice I had was either to agree to this and provide the £80m funding, or to cancel it," he said.
"It would have been detrimental to the town to have cancelled it and I think, having looked at it today, it will be beneficial to Luton, environmentally and economically."
The route, spanning residential areas in Dunstable, Houghton Regis and the west of Luton, will provide connections between the three town centres, Luton Airport Parkway station and the airport.
Three bus companies - Arriva, Centrebus and Grant Palmer - will operate four new routes from 25 September, that together will provide services up to every seven minutes at peak times.