Sobriety bracelets 'may help Bedfordshire Police save money'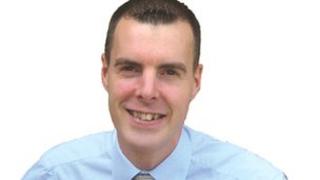 Encouraging problem drinkers to wear "sobriety bracelets" which give blood alcohol level readings could help save Bedfordshire Police money, its police and crime commissioner says.
Olly Martins said he believed using the bracelets, which are fitted to offenders' ankles, would prevent repeat alcohol-related offences.
He said the force, which needs to save £7.5m needed "all the help we can get"
The Police Federation has previously backed the use of the devices.
It said the bracelets, which have been trialled in Glasgow on a voluntary basis, were a "sensible potential addition to the armoury" of judges and magistrates.
The devices record alcohol intake every 30 minutes by measuring air and sweat emissions from the skin.
They can detect blood alcohol levels as low as 0.02% and can tell when the alcohol was consumed before issuing an alert to a base monitoring station.
The devices also contain GPS tag technology, which allows the location of the wearer to be tracked.
'Fewer crimes'
If they are used in conjunction with drug testing and other support services, the bracelets could lead to fewer crimes and victims, he added.
"As budgets get tighter, the use of crime-deterrent technology like this needs to increase," he said.
"It is important that we use the latest and emerging technologies to help prevent crime, reducing the demand on police resources."
Jim Mallen, from the Bedfordshire Police Federation, said any attempt to reduce alcohol-linked crime "must be welcomed".
"It might mean if you are violent because of alcohol you could then be sentenced to a period of sobriety," he added.