Sharif Demirsay murder police arrest 15-year-old boy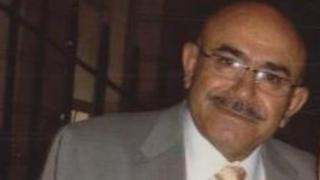 A 15-year-old boy is being questioned by police investigating the murder of a man stabbed to death when three men forced their way into his home.
Sharif Demirsay, 65, was attacked at his home in Kempston, Bedfordshire, on 14 May.
The boy was arrested at his home in Queen's Park, Bedford.
Four others - aged 17, 18, 19 and 17 - arrested in July and August, are on bail until 9 October. Another man was released without charge.
A £10,000 reward is available for information leading to the arrest and conviction of the offenders.
Det Ch Insp Tim Redfearn said: "This is a long-running and wide-ranging enquiry that has resulted in us identifying a number of people locally who clearly have key information.
"Some of those people have understood that it's important for Sharif's family for them to do the right thing, and have spoken to us.
"However, for a variety of reasons, a few other people have been more reluctant to assist directly.
"I can understand how hard it is for some people to tell us what they know, but I can only re-emphasise the importance of speaking to us so that we can prevent them causing further misery to this family, or any others," he said.