Rachel Manning murder: Barri White and Keith Hyatt's compensation fight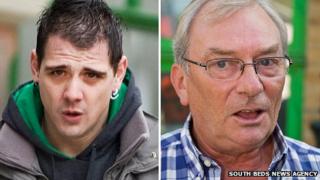 The two men wrongly convicted over the murder of a 19-year-old woman from Milton Keynes in 2000 have renewed their battle for compensation.
In 2002, Barri White was found guilty of strangling Rachel Manning. His friend Keith Hyatt was convicted of perverting the course of justice. Both had their convictions quashed in 2007.
Mr Hyatt said they were "victims of crime" and wanted "recompense".
The Ministry of Justice said it would not comment on individual cases.
Shahidul Ahmed, 41, was jailed for life at Luton Crown Court on 4 September for Miss Manning's murder, more than a decade after her boyfriend was wrongly jailed for the crime.
Mr Hyatt said: "We've had a letter saying that we don't need to send any more paperwork and it's now down to the discretion of the [Secretary of State].
"We just want recompense for what they did to us. We're claiming not just for the time we were in prison, but for being away from our families.
"And it doesn't end there. Trying to get a job when you have a prison record is nearly impossible.
"As I keep saying to people, we're victims of crime. We should have had a cheque through the door with a letter of apology, but we're having to fight for it."