Lister Surgicentre in Stevenage comes under NHS control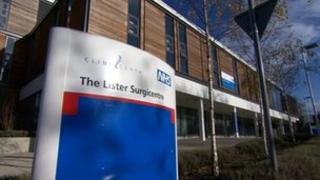 A privately-run NHS hospital where three patients died after routine surgery is now under NHS control, clinic bosses have confirmed.
Services at the Surgicentre, based at the Lister Hospital in Stevenage, have been transferred to East and North Hertfordshire NHS Trust.
Bought by the Department of Health for £53m, it will be called the Treatment Centre and integrated with the Lister.
Centre operators Carillion said the transfer was by "mutual agreement".
Services at the Surgicentre had been provided and managed by a subsidiary of building company Carillion called Clinicenta since it opened in 2011.
'No break'
It provided routine surgery in areas such as ear, nose and throat, trauma, orthopaedics, gynaecology and ophthalmology for NHS patients referred there.
In April last year, Care Quality Commission (CQC) inspectors failed the centre in four out of five areas and the following August, GPs were told not to refer patients to the eye department because of worrying waiting times.
Three people undergoing routine surgery for joint conditions died unexpectedly, sparking investigations by Hertfordshire NHS and the CQC.
In August, it was announced the clinic would be bought by the Department of Health.
The East and North Hertfordshire Clinical Commissioning Group (CCG) confirmed services would transfer from 14 September and there would be "no break in the services provided".
"Patients who are currently receiving or expecting treatment at the Surgicentre should continue to attend their appointments in the usual way," a spokesman said.