Luton Council reveals more failures in protecting vulnerable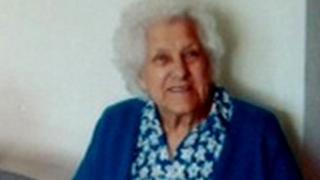 Further safety breaches were found in a review set up after a woman with dementia was left on a minibus overnight, it has been revealed.
Luton Council began an investigation after Joan Cook, 88, spent 14 hours trapped on a bus in a depot.
Now a report has shown a 16-year-old boy was hit by a car after leaving a council vehicle, and an elderly man fell off a lift at the back of a bus.
The council claimed it had since made "significant improvements" to safety.
The driver who left Mrs Cook on the minibus in April last year was cleared of neglect at Luton Crown Court in May.
At the time, the council claimed it was "entirely an isolated incident" and it would conduct a review of safety procedures.
However, information about two further incidents was revealed in a report to the council's scrutiny committee on Thursday.
'Open and analytical'
In the first, which happened before Mrs Cook was left on the bus, an elderly man was "not in a stable position" on a lift when he fell.
The council said although two people were disciplined and received a final written warning, the matter had gone unreported at the time, "probably due to lack of training".
The council said a "proper safeguarding action should have been instigated".
The incident in which an autistic teenager "broke free of an attendant" and ran into the road happened after April last year.
The attendant received additional training, following a council and police investigation.
Council officer Colin Chick said the authority had now put all staff, both internal and external, through new safeguarding procedures, which make the reporting process "open and transparent".
"These [procedures] are about making people aware about what actions you take in situations," he said.
"We have been completely open and analytical and transparent in identifying these three cases."