Bedford Hospital faces £3.6m budget deficit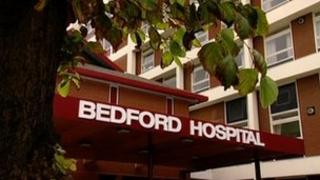 A hospital criticised for patient welfare failings is facing a budget deficit of £3.6m, bosses have said.
The 2013/14 shortfall comes after recent criticism by the Care Quality Commission (CQC) and the loss of some children's services.
Acting chief executive Stephen Conroy said it "looked quite tight" but he "hadn't given up on being in balance".
He said he also hoped to bring some paediatric services back in October.
Mr Conroy said Bedford Hospital NHS Trust, which had an income of more than £160m in 2012/13, needed to make savings in line with the rest of the NHS but it was "harder in a small hospital".
'Unreserved apologies'
He said an increase in emergency admissions of older people with chronic conditions who often stayed in hospital for a while had contributed to the deficit.
"We will do everything we can to avoid the financial deficit but we are running with a risk," he said.
"We now don't get sufficient funding for emergency admission to cover all our costs."
He said it had been able to make savings in back office and administrative services and in the procurement of drugs and equipment.
Roger Strangwick, from the hospitals' Patients' Council, said he was "not that worried" about the deficit as the hospital was "fairly confident" it could meet it.
The trust suspended children's A & E services, planned surgery and overnight observation, last month over staff shortage concerns.
Last month, the hospital apologised "unreservedly" after being told "urgent improvements" were needed to address failings in patients' safety and welfare.