Cliveden estate installs giant slide during house repairs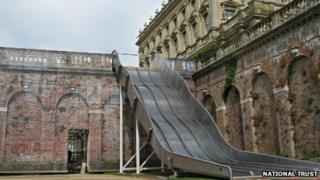 A giant slide has been installed at a stately home while a 350-year-old staircase is repaired.
Visitors to Cliveden, near Beaconsfield, can use the 6.65m (21ft) high slide as an alternative route from the south terrace to the formal garden.
The repairs are part of a £3.4m restoration project for the National Trust estate, once described as a "playground for the rich".
Sam Willis from the estate office said: "We wanted to keep that spirit alive."
The Cliveden estate, which was home to Viscount Waldorf Astor and his wife Nancy in the early 20th Century, is now in the second year of the five-year revamp.
Renowned for hosting exclusive parties and political gatherings, it became linked to the Profumo Affair because it was where war minister John Profumo first met 19-year-old Christine Keeler in 1961 and started a relationship.
Visitor experience consultant, Ms Willis, who came up with the idea for the slide, said the estate had "always been a place for pleasure".
"We wanted to keep that fun and enjoyable theme for today's visitors," she said.
"And we wanted to turn it into an opportunity rather than a disadvantage as it is such a well-used part of the estate."
Unprecedented view
Four people at a time can ride on the stainless steel structure, which is in the oldest part of the estate, and it takes about five seconds to reach the bottom.
It did not need planning permission as it is temporary and is attached to the conservationists' scaffolding, so no part of it touches the the house.
Ms Willis said they had also built a viewing walkway on the top of the scaffolding to give visitors an unprecedented view of the works and show families the "important work we are doing".
She confirmed there were two other routes down, a disabled access ramp and stairs within the scaffolding.
The slide will remain in place until the end of the year when it will be relocated to a permanent home on the estate.
"It will be more where you would expect to see a slide," she said.