Bilderberg conference police ask ministers for funding help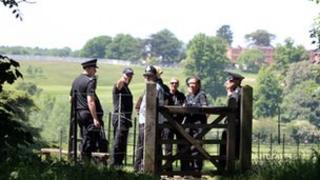 A bid is being made for government help to cover a £490,000 budget shortfall for policing the Bilderberg conference at a Watford hotel.
Hertfordshire Police confirmed the final costs for covering the event at The Grove were £990,000, with organisers contributing £500,000.
Police and Crime Commissioner David Lloyd said the "burden" should not fall on the county's residents.
The Home Office said grants could be awarded for "unexpected costs".
Political and financial figures from north America and Europe met at the hotel for four days in June to discuss world issues and there were protests around the event.
Among those who attended the conference were Prime Minister David Cameron, Chancellor George Osborne and Cabinet Minister Ken Clarke.
The conference's secretive nature attracted criticism and security was high as hundreds of protesters were expected.
The final numbers of protesters ranged from about 300 on the Thursday and Friday to more than 2,012 on the Saturday, police said.
The maximum number of officers deployed at any one time was 241 and there were two arrests for minor offences.
'Cost-neutral'
Police expected the costs to be about £1m and at the time Mr Lloyd said the operation should be "cost-neutral".
Now the figures have been finalised, he has approved the constabulary's bid to the Home Office to cover the remainder, minus about £38,000 VAT which cannot be recovered.
"As an event of international significance, it is right that the burden of policing costs should not fall to the people of Hertfordshire," he said.
"I anticipate that this will bring to a close our work on a successful event."
A Home Office spokeswoman said ministers could offer financial support to police forces if unexpected or exceptional costs "threatened their financial stability".