Luton Christmas lights saved by Easyjet airline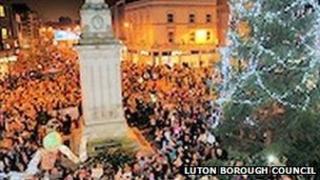 Luton's Christmas lights, which were under threat due to council cuts, will now be switched on after an airline stepped in to fund them.
The council had said the festive display, which costs between £13,000 and £15,000 a year to run, was at risk.
Easyjet, based in the town for 18 years, said it had provided the cash as "part of our commitment to Luton".
Council leader Hazel Simmons said she was "very grateful" the town centre would now be illuminated.
The town's Christmas lights have been put up annually in George Street, between the Town Hall and Park Street, for more than 20 years.
The council confirmed "an allocation" of the lights will be orange - the airline's brand colour - as part of the new agreement.
Last May, the council said even though it owned them, it could not afford the additional funding to turn them on, which included set-up costs and electricity.
'Special time'
The authority said it had to make savings of up to £49m over the next three years and had to make make "tough decisions to achieve a balanced budget".
Ms Simmons said it was "absolutely fantastic" the airline had been able to step in.
"Christmas is a special time, especially for young children, so we are very, very grateful to them for helping us out," she said.
Easyiet, the biggest operator at Luton Airport, is part of the Love Luton consortium, which aims to "improve the image and perception" of the town.
Airline spokesman Hugh Aitken said the company had provided sponsorship in partnership with the campaign and its contribution was about "being part of the community".
"We're proud of the people we employ here and and the contribution we make to the town," he said.