Thousands celebrate at Hindu festival near Watford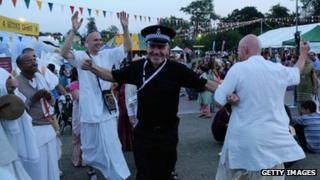 About 70,000 worshippers are celebrating at a landmark two-day Hindu festival in Hertfordshire to mark the birth of Lord Krishna.
The two days of celebrations, which were also held on Wednesday, mark the birth of Lord Krishna.
The annual event at the Hare Krishna movement's European headquarters at Bhaktivedanta Manor near Watford is especially significant this year.
It is 40 years since George Harrison bought the property for the group.
The former Beatle donated the 19th Century manor house in the Hertfordshire countryside following a trip to India in the late 1960s.
Only about 150 people attended the first Janmashtami festival at the site in 1973.
But this year a record attendance was expected as a special garden had been opened in Harrison's memory.
The festival is believed to be the largest Hindu gathering outside India and final attendance figures for this year's celebration are expected to be released later this week.