Luton gun crackdown brings arsenal of weapons to police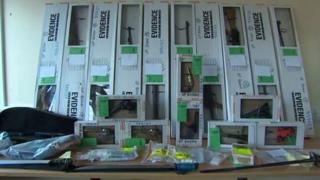 A crackdown on gun crime by police in Bedfordshire has resulted in an arsenal of weapons being seized or handed in.
Police said they increased patrols and strengthened links with local communities in Luton in May after eight violent attacks and 10 shootings since January.
Information received in 295 tip-offs led to 63 people being arrested, four being charged and 27 guns seized.
Serious incidents fell from 18 before May to two since then, police said.
Police said one key to the reduction in gun crime was the response of the community.
Residents had been reluctant to provide information to police about gun crime but appeals by civic and religious leaders after so many attacks in a short time had brought a change of heart, they said.
'Proud of Luton'
Police patrols had stopped and searched 231 people as part of the crackdown. There has been only one shooting incident since May and no-one was hurt.
Four people have been charged with firearms or weapons offences and are in custody while 12 others are on bail pending further inquiries.
Ch Supt Mark Turner said: "We need the help of the communities to tell us what is happening and working with all the different agencies across Luton we can win this battle."
Montell Neufville of the Luton Youth Network said more had to be done to tackle the causes of violence and to prevent youngsters graduating into a life of crime.
Naseem Ayub, the council's portfolio holder for community safety, said: "Luton Borough Council is doing everything it can to help the police stamp out criminal activity.
"We are in constant contact with the police to monitor the situation and we are reassured with the measures that are currently in place including increased patrols.
"We are proud of Luton and don't want to see our reputation ruined by the actions of a few criminals."