Lister Hospital's adult A&E department moves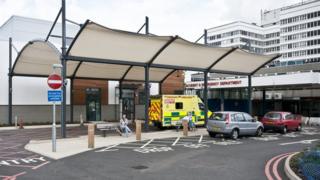 Adult emergency services at Lister Hospital in Stevenage are moving as part of a £150m redevelopment.
The A&E department is moving to the adjacent new wing of the hospital on Thursday, making way for its current building to be refurbished.
A "state of the art" resuscitation area and an over-the-bed x-ray machine are among the first new facilities to be installed in the £19m department.
Work at the hospital should be completed by next year.
Nursing services manager Sheelagh Molloy said: "This first move represents months of planning by clinical staff to make sure the new department helps us give better care to patients.
"The next stage of the programme is to refurbish the existing adult's A&E department, and then we'll move on to upgrading the children's emergency department."