Railcare jobs secured by German sale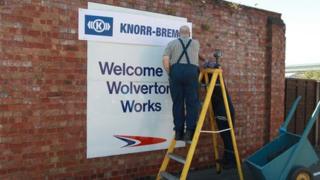 More than 200 jobs have been secured by the sale of rail maintenance firm Railcare to a German company.
The firm went into administration earlier this month with the loss of 33 jobs at Springburn, Glasgow, and 118 at Wolverton, near Milton Keynes.
Administrators BDO said the business had been sold to Knorr-Bremse Rail Systems (UK) Limited.
The deal ensures the continuation of Railcare's sites and preserves 202 skilled jobs.
BDO business restructuring partner Kim Rayment said: "The sale of Railcare's business and assets to Knorr-Bremse will secure a future for the business and jobs.
"Under the conditions of the sale Knorr-Bremse has agreed to pay retained employees their July salaries, which Railcare was unable to provide before it entered administration.
"Current employees will therefore be paid for all work they have done to date.
"We are delighted with this very positive outcome for the business, employees and more broadly for the communities of Wolverton and Springburn, both of which have strong railways heritage."
Business Secretary Vince Cable said: "It is good news for the current workforce that the business in both Milton Keynes and Glasgow has been saved.
"I will be seeking an early meeting with Knorr-Bremse to get a better understanding of its long term plans for the business in the UK and what government support may be available to it."