Train services disrupted between London and West Norfolk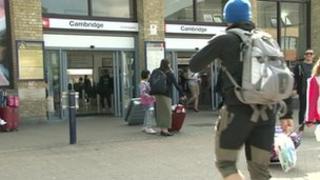 Direct train services linking West Norfolk with London have been cancelled because of engineering work.
First Capital Connect is running shuttle trains between King's Lynn and Cambridge to enable passengers to reach other operators' services.
The firm apologised and said compensation would be available to anyone delayed more than 30 minutes.
Network Rail said engineering work between Alexandra Palace and Finsbury Park in London had over run.
Services between London and Norfolk, Cambridgeshire and Hertfordshire will be affected with amended timetables operating until Wednesday, First Capital Connect said.
Network Rail said it had been working on new signalling on the route between Alexandra Palace and Finsbury Park over the bank holiday weekend.
Reduced service
Engineers encountered issues which meant First Capital Connect and East Coast trains would not operate as planned, but teams were working to restore a full service as soon as possible.
Phil Verster, from Network Rail, said: "We apologise to passengers for the significant disruption.
"We are working closely with First Capital Connect to restore a full service by Wednesday."
Jackie Townsend from First Capital Connect said: "We are really sorry about the reduced service, affecting our passengers on the Great Northern route to and from King's Cross.
"We are running a back-up timetable, which is a reduced yet reliable service based on a published timetable.
"We are keeping our customers updated with travel advice on our website, through our twitter service and all other available channels.
"Ticket acceptance is in place with other operators, and with London Underground and London bus to ensure passengers are able to get to their final destination."