Rachel Manning case: Shahidul Ahmed will not give evidence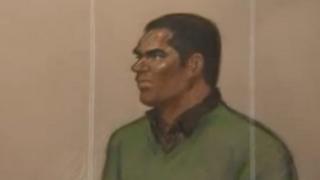 A man accused of murdering a teenager in Milton Keynes in December 2000 will not give evidence at his trial.
Shahidul Ahmed, 41, denies murdering Rachel Manning, who was strangled and her body dumped at Woburn Golf Club.
The jury has heard his DNA was linked to the case following his arrest for a sex attack in 2010.
Michael Borrelli QC, defending, said: "While this defendant accepts traces of his DNA on the steering lock, his case is he is not responsible."
The Crown's case is that the defendant strangled 19-year-old Miss Manning close to a phone box in Milton Keynes early on 10 December 2000, when she got lost after a night out with her boyfriend.
'Grabbed throat'
Mr Ahmed then dumped her body in undergrowth at the golf club, eight miles away, and disfigured her face with a car's steering lock, prosecutor Ben Gumpert said.
A DNA trace found on the steering lock was linked to Mr Ahmed when he was arrested for a sex attack on a 19-year-old student in May 2010.
On 9 December 2000, Miss Manning had been to a fancy dress party and then Chicago's nightclub with her boyfriend Barri White, the court has heard.
After leaving the club, he told his girlfriend to get a taxi home while he would walk to his friend Keith Hyatt's for a lift.
Miss Manning then became lost on a Milton Keynes estate and called Mr White from a phone box.
They arranged to meet at a Blockbuster store but she did not turn up.
In 2002, Mr White was jailed for her murder and his friend Keith Hyatt was imprisoned for perverting the course of justice.
Both had their convictions quashed in 2007, with Mr White acquitted at a retrial in 2008.
Giving evidence after being called by the defence on Friday, Mr White's ex-wife Alison White said on one single occasion, in June 2012, he had lost his temper with her over their arrangements with their daughter.
Ms White said he had grabbed her throat and insulted her, for which he later accepted a police caution.
The couple have been on good terms since and he has regular contact with his daughter, the court heard.
The trial continues.